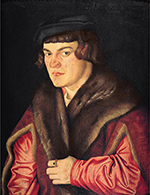 Hans Baldung Grien was a well-known German printmaker and painter who was responsible for introducing erotic and supernatural themes into German art. Born in 1484 in the Free Imperial City of Schwäbisch Gmünd in Germany, this artist became the only member of his family to not attend a university.
Mr. Grien's family was constructed of professionals, academics, and intellectuals. Hans' uncle was a doctor, and his father was a lawyer. One can just imagine what occurred when Hans let his family know that his real passion in life was painting.
His training as an artist began in the very early 1500s. He was an apprentice for Albrecht Dürer, a very renowned German artist. Grien's apprenticeship was complete in 1509. Mr. Dürer considered him to be his most gifted student.
After his apprenticeship, he moved to Strasbourg, where he became a celebrity. A great percentage of the residents wanted a piece of him, so he always had painting to conduct. In 1510, Hans found the love of his life, Margarethe Herlin. He opened a workshop and began signing his work with a signature monogram, which he utilized throughout his career.
Over the course of his lifetime, he was able to captivate audiences with his masterpiece tapestries, drawings, altarpieces, woodcuts, portraits, and mythological motifs. Mr. Baldung, who loved wearing green garments, had a great passion for witchcraft, sorcery, and religion, which reflected in most of his creations.
All of his creations were able to capture people's attention right away, because they were very sharp. Hans was known for spending long periods of time in his work. Mr. Baldung always strived for perfection in everything that he did, which is one of the main reasons why he is still being the talk of the town with the work he conducted in his lifetime.
Before and after his death, in 1545, he has always been considered to be one of the best artists of all time. Numerous of experts in the field consider him to be one of few German artists who really went the extra mile in everything that he showcased to the public.
Hans Baldung most notable works are the Mater Dolorosa, Venus and Amor, Adam, Eve, The Three Ages of Man and Death, The Virgin Queen, Witch and the Dragon, The Three Ages of Woman and Death, and the Beheading of St Dorothea. These painting are in different museum throughout the globe, such as the Kunsthistorisches Museum in Vienna, Austria.